This morning, we joined Governor Cuomo ahead of the U.S. Women's National Team parade in NYC as he signed into law a sweeping set of equal pay measures that will go a long way towards closing the gender wage gap in New York. With the spotlight on the U.S. women's soccer team's fight for equal pay, the issue of wage discrimination has become a matter of national attention. 
Now, in New York, thanks to an expansion of the right to equal pay for equal work to also include equal pay for substantially similar work and a ban on employers asking for salary history, women and people of color will no longer be faced with wage discrimination and a history of lower wages following them from job to job. For more info about these measures and how they'll benefit working families, see our fact sheet.
We were proud to lead the hard-won fight to pass these laws, and ensure New York sets a national standard for fair and equal pay. We're also proud of the U.S. women's soccer players for standing up for the equal pay they deserve, and for shining a spotlight on the broad issue of pay disparity across the U.S., which impacts groups including low wage workers, single mothers, and women of color particularly harshly. 
Here are some photos from an exciting morning of celebrating these major strides toward closing the wage gap here in New York, and our soccer champions who aren't afraid to speak up for what's right!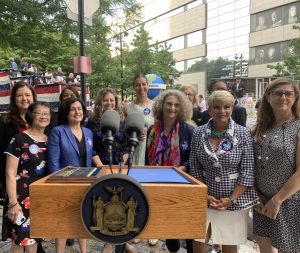 ABB Staff Attorney Sarah Brafman joins our partners at the signing ahead of the parade.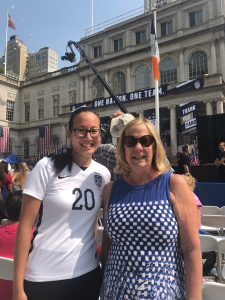 ABB Senior Staff Attorney Liz Chen and Co-Founder & Co-President Sherry Leiwant await the start of the celebrations at City Hall.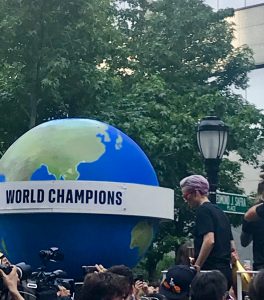 Champion player Megan Rapinoe boards the float at the start of the parade after the signing. 

Float #1 with the players goes by, celebrating their hard-earned win!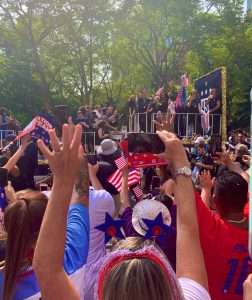 Float #2 goes by with the second half of the team!

Ticker tape rains down over the float & cheering onlookers.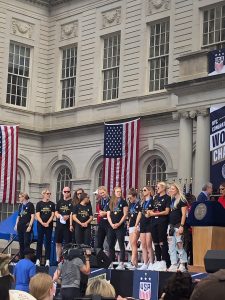 The team is honored at City Hall and given the keys to the city.