An Inside Story and Lessons Learned from the Decade-Long Fight for Justice, Fairness, and Equality
Winning the Pregnant Workers Fairness Act documents the history of the decade-long movement to pass the Pregnant Workers Fairness Act (PWFA). The PWFA passed in December 2022, after a ten-year campaign to ensure pregnant workers are afforded fairness, dignity, and equality under the law. The new law closes a pernicious gap in our nation's civil rights laws that forced countless pregnant workers to choose between a paycheck and a healthy pregnancy. The PWFA affords millions of pregnant and postpartum workers, particularly Black and Latina women in low-wage, inflexible, and male-dominated jobs, crucial new protections during pregnancy and immediately after childbirth to protect their health and keep their jobs. The law provides pregnant and postpartum workers an explicit right to reasonable accommodations, absent undue hardship to their employers. 
Since the PWFA's passage, many people have asked us: How did a major piece of civil rights legislation pass in a heavily partisan and divided Congress? The answer is multifaceted and complex. Winning the Pregnant Workers Fairness Act tells the detailed 10-year history of the PWFA movement and provides insight into the key tactics and strategies we believe were most fruitful in passing the legislation. We hope Winning the Pregnant Workers Fairness Act also serves as a roadmap for future advocacy campaigns. The full report—including a detailed timeline of events and appendix listing hundreds of supporting organizations from throughout the years—is available for download here. Below is a synopsis.
We utilized 8 key tactics and strategies to make this victory a reality:
1. Center Workers. They Are Experts and Leaders.
2. Make Progress in States.
3. Build a Broad Coalition & Engage Diverse Stakeholders.
4. Gain Business Support.
5. Achieve Robust Bipartisan Support.
6. Build Relationships with Lawmakers & Regularly Create New Educational Materials to Maintain the Urgency of the Issue.
7. Channel the Power of Communications & Use Consistent, Values-Based Messaging.
8. Push Until the Bitter End, Even When Success Seems Nearly Impossible.
CHAPTER 1: How We Identified That Pregnant Workers, Especially Women in Low-Wage and Physically Demanding Jobs, Were Falling Through the Cracks Of Federal Civil Rights Laws
There are many ways to tell the story of how Congress passed the Pregnant Workers Fairness Act (PWFA). It is a story about workers—overwhelmingly women in low-wage and male-dominated jobs—who did not shy away from bravely and boldly sharing their stories, alongside unrelenting advocates who demanded Congress afford them long overdue protection.  It is the story of unlikely allies, federally and around the country, forging deep partnerships—another rarity, especially in the realm of labor and workplace rights. It is about the triumph of bipartisanship, a rarer and rarer occurrence in today's highly polarized political climate. And it is the story of legal experts sounding the alarm bells, and refusing to accept, the severe limitations of the law, especially when it comes to serving the most vulnerable and marginalized. 
In 2011, A Better Balance Co-Founder & Co-President Dina Bakst recognized a disturbing pattern when speaking with workers and reviewing case law: pregnant workers, especially women in low-wage and physically demanding jobs, were facing terrible mistreatment at work- and current law offered little help. It was clear they needed immediate relief to protect their health and stay attached to the workforce.
Getting fired or forced off the job while pregnant can lead to losing critical income and health benefits, food insecurity, and homelessness.
CHAPTER 2: How the PWFA Was Born: Spotlighting the Problem and Offering a Solution
In January 2012, Bakst penned an Op-Ed in The New York Times that highlighted the continued injustice pregnant and postpartum workers face:

"No pregnant woman in this country should have to choose between her job and a healthy pregnancy." – A Better Balance Co-Founder and Co-President Dina Bakst, 2012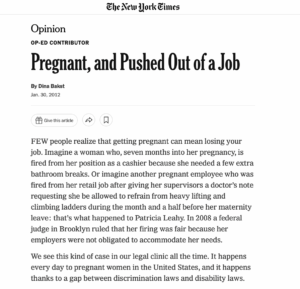 From there, she offered a solution. Legislators, she wrote, could pass laws providing pregnant workers an affirmative right to reasonable accommodations, absent undue hardship to employers. Pregnancy accommodations are good for public health, family economic security, and an employer's bottom line.
The Op-Ed ignited a firestorm, exposing the horrifying reality facing pregnant workers. As Bakst recalls from that time: 
"For so many, the Op-Ed was the first time they learned about this gap in our federal laws and the continued prevalence of this form of pregnancy discrimination, despite laws on the books meant to help…The day my Op-Ed was published, Representative Jerrold Nadler (D-NY) reached out to me saying he had read the piece and wanted to work together to draft federal legislation."
CHAPTER 3: Our Solution to the Problem: The PWFA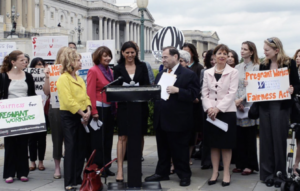 Lawmakers heeded A Better Balance's call for new legislation, readily grasping the importance of passing a law that would specifically address the fundamental gaps in protections for pregnant and postpartum workers. 
In February 2012, Representative Nadler (D-NY) publicly announced that he was working on legislation to address the problem identified in Bakst's New York Times Op-Ed. That spring, he invited A Better Balance and leading women's rights and economic justice groups to discuss how to best craft the bill language for the Pregnant Workers Fairness Act .
Ultimately, the working group decided that a stand-alone bill—in many ways mirroring the Americans with Disabilities Act (ADA) but also taking into consideration the ways pregnancy may differ as a temporary medical condition—would be the cleanest approach.
On May 8, 2012, Representatives Nadler, along with Representative Maloney (D-NY) and other colleagues, introduced the Pregnant Workers Fairness Act in the House of Representatives. A few months later, on September 19, 2012, U.S. Senator Bob Casey (D-PA) introduced the same bill in the Senate.The Pregnant Workers Fairness Act guarantees pregnant and postpartum workers the right to reasonable accommodation for known limitations related to pregnancy, childbirth, or related medical conditions, unless such accommodations would pose an undue hardship to the employer. The report lays out the nuts and bolts of the PWFA in further detail.
Failure to access pregnancy accommodations in the workplace can lead to complications such as preterm birth, preeclampsia, and miscarriage.
CHAPTER 4: Making the Legal, Economic, and Health Cases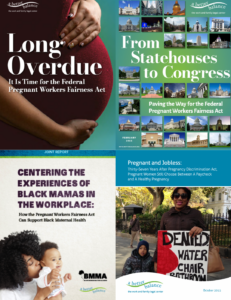 Even while drafting the Pregnant Workers Fairness Act in 2012, advocates and lawmakers both knew that this new bill was unlikely to pass in a divided Congress. Advocacy groups thus focused on educating members of Congress, stakeholders, and the public about the problem and solution at hand while also turning to cities and states to make progress and help make the case federally.
Making the legal case: We had long argued that the Pregnancy Discrimination Act (PDA) and the Americans with Disabilities Act Amendments Act (ADAAA) provided inadequate legal protections for pregnant workers. Then, in an extensive 2019 report, Long Overdue, A Better Balance published original legal research, which we shared at two Congressional hearings, showing that in over two-thirds of cases, courts held that employers were permitted to deny pregnant workers accommodations under the PDA.
Making the economic case: To make the case for the PWFA from an economic justice perspective, we shared both quantitative data and anecdotal evidence of the lost income, job opportunities, benefits, seniority, housing and food security, and other severe economic consequences pregnant workers suffered when denied accommodations. Winning the Pregnant Workers Fairness Act further details the many ways that combatting pregnancy discrimination has significant implications for our country's economy as well.
Making the health case: We highlighted the broader maternal and infant health benefits of workplace accommodations and worked with partners to emphasize the importance of the PWFA as one way to help address the Black maternal health crisis. We heard from health care providers who treated patients for dehydration after fainting on the job because they weren't allowed to drink water or suffered miscarriages after being forced to continue to lift heavy boxes. These points, combined with the urgency of the pandemic and its negative health effects on pregnancy, presented compelling arguments to federal lawmakers on the necessity of passing the Pregnant Workers Fairness Act without delay.

Two-thirds of women lost their pregnancy accommodation cases in federal court before the Pregnant Workers Fairness Act.

CHAPTER 5: Tactics and Strategies: How We Passed the PWFA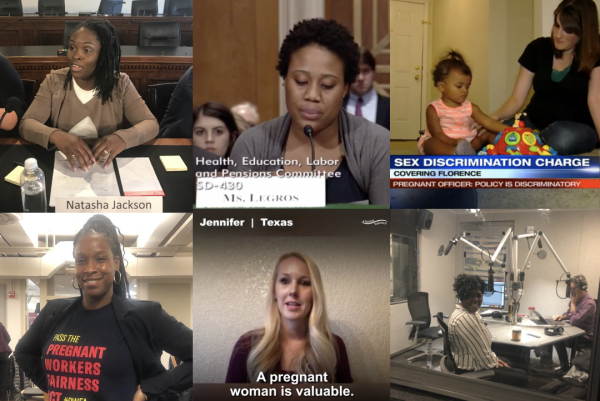 Passing the Pregnant Workers Fairness Act took over a decade of savvy advocacy, sustained pressure, and daily, often unglamorous, behind-the-scenes work to raise the profile of the issue and navigate the thorny politics of Washington, D.C. 
This prolonged work afforded us a larger perspective on the strategies that proved to be most impactful and effective in getting the bill passed into law. Chapter 5 of Winning the Pregnant Workers Fairness Act describes in-depth the eight tactics and strategies we believe were most fruitful to the PWFA campaign and may be able to serve as a roadmap for future advocacy campaigns:

Twenty-six states passed pregnant worker fairness laws between 2013 and 2023.

CHAPTER 6: How States Paved the Way for the Federal PWFA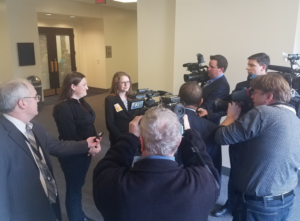 Without a doubt, the PWFA is now a federal law thanks to the parallel movement over the past decade to pass similar legislation at the state and local level. In the states, we worked in coalitions and learned to hone key arguments and garner support from a diverse set of lawmakers and stakeholders—messaging and allies that proved crucial in the federal effort. The concerted state and local PWFA movement—where twenty-six states passed laws in less than ten years—began in 2013, when New York City became the first jurisdiction to enact a comprehensive and robust local PWFA as part of the new wave of laws since California's law passed in 1999.
This state-by-state work was incredibly time-consuming and often took years of deep coalition work, state-specific legal research, tailored legal bill and amendment drafting, strategizing, and overcoming opposition. Making progress in the states, especially in very conservative states in the South, showed federal lawmakers the universal appeal of the bill and that bipartisanship on the issue was possible.
CHAPTER 7: Next Steps: The Need Going Forward
As proud as A Better Balance is of leading the effort to pass the federal PWFA, our work and partnerships are only just beginning. Laws are only meaningful if workers know their rights and can enforce them. This is particularly true for low-wage workers who so often have little access to legal information and cannot afford legal representation. Our next challenge is to work with a vast array of agency partners, organizations, and individuals to ensure that the PWFA transforms the lives of millions of workers and families across the country. 
The passage of the PWFA proves that policy victories are possible with the hard work of dedicated legislative champions, and hundreds of organizations and individuals who never gave up.