On this day in 2015, the U.S. Supreme Court issued a decision in Young v. UPS, a landmark case in the continued fight to ensure all pregnant workers can access the accommodations they need to maintain a healthy pregnancy without being forced off the job.
Peggy Young, a former driver for UPS, was pushed onto unpaid leave when she needed a modest lifting restriction while pregnant, despite the fact that UPS accommodated similar requests for other, non-pregnant workers. Young sued her employer, and the case made it all the way to the Supreme Court which, seven years ago today, told employers that if they are accommodating a large percentage of non-pregnant workers, like all workers with on-the-job injuries or disabilities, but not pregnant workers, then they are likely violating the act by placing a "significant burden" on pregnant workers.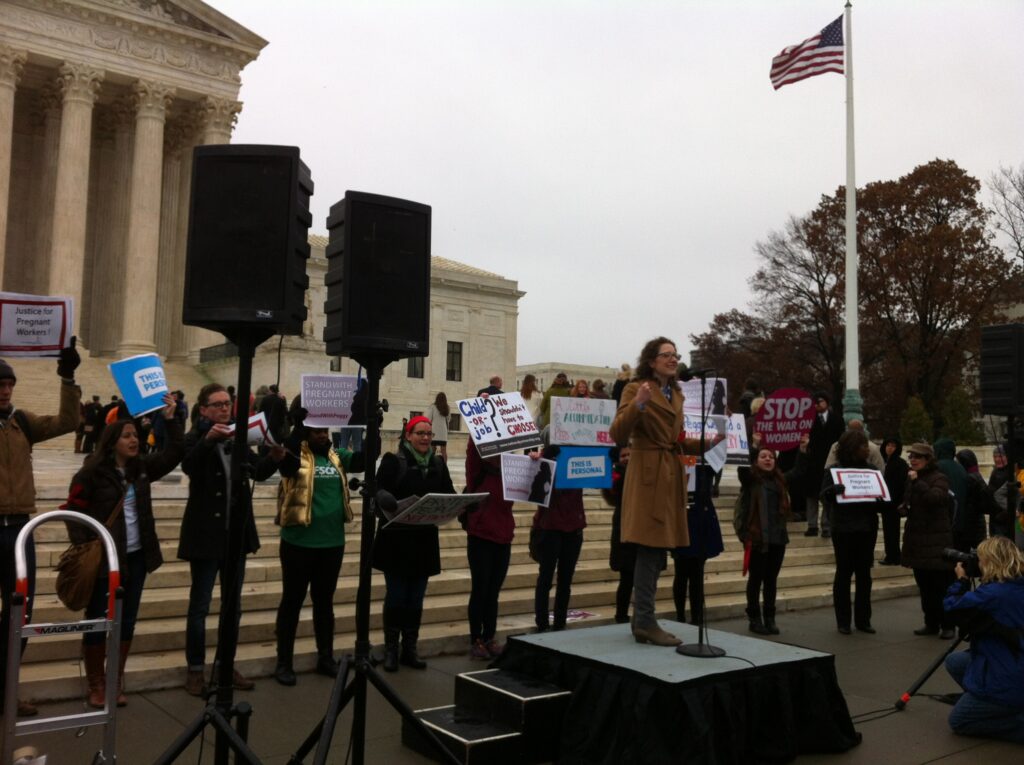 However, while the Court's decision was a victory for Young herself, as A Better Balance Co-Founder and Co-President Dina Bakst said the day after the decision came down, "The ruling does not level the playing field for all pregnant workers." According to the ruling, a pregnant worker must still undergo a multi-step process and show the court others in their workplace who also failed to receive accommodations, a burden not placed on workers with disabilities. As analysis in our report, Long Overdue showed, this standard has led to ⅔ of pregnant workers still losing their cases following Young v. UPS. The Americans with Disabilities Act also offers weak protections because pregnancy is not considered a disability, and thus affords no protections to pregnant workers who need accommodations to prevent disabilities from arising.
The only way to truly level the playing field for pregnant workers is for Congress to close the gaps in current law and pass the Pregnant Workers Fairness Act (PWFA). The PWFA would guarantee a clear, affirmative and proactive right to workplace accommodations for pregnant and postpartum workers unless it causes an undue hardship on employers, ensuring that all pregnant and postpartum workers can access the simple but vital accommodations they need to maintain a healthy pregnancy without jumping through legal hoops or risking being pushed off the job. It is time to put an end to the horrific mistreatment that workers across the country are still facing.
As we reflect upon the impact of Young v. UPS, the lessons learned from this landmark case, and the rampant discrimination pregnant workers continue to face, we call on the Senate to pass the Pregnant Workers Fairness Act now.