August is National Breastfeeding Month, a time to celebrate breastfeeding and commit to supporting parents in all their lactation needs. This National Breastfeeding Month, we are thrilled to highlight new protections for expecting and new parents under the Pregnant Workers Fairness Act and PUMP for Nursing Mothers Act, two new federal laws extending the right to workplace accommodations to pregnant, postpartum, and lactating workers nationwide. Yesterday, we gathered in New York City with partners and advocates for an event spreading the word about these exciting new laws by lighting up the busiest intersection in the country—Times Square—with a billboard educating the public about their workplace rights.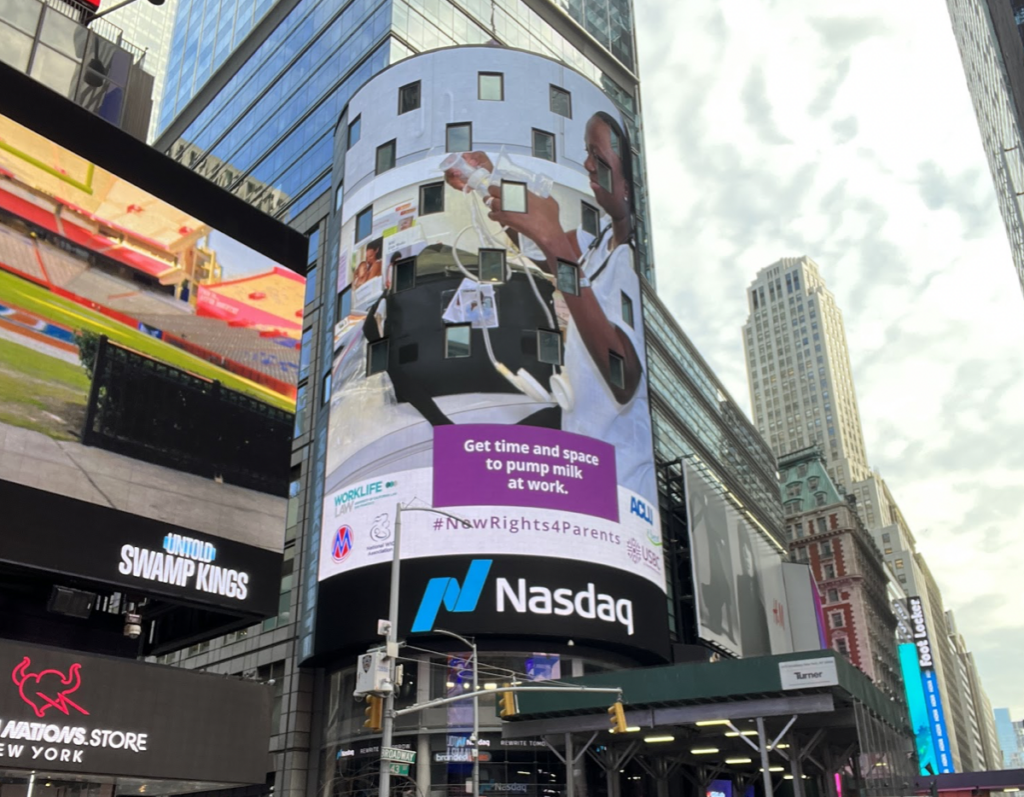 For many mothers, having the time and space they need to pump breastmilk on the job is a critical part of being able to breastfeed on their own terms. As we are already seeing through our free work-family legal helpline, the PUMP Act is already empowering workers to request, and, often overnight, receive the support they need to keep their job and continue their breastfeeding journey. A lack of access to lactation accommodations disproportionately impacts workers of color in low-wage positions, and the PUMP Act marks a key step towards advancing racial, economic, and gender equity in the workplace by closing gaps in the law. As we celebrate National Breastfeeding Month and approach Black Breastfeeding Week, which falls on August 25th-31st, we are thrilled that millions of breastfeeding workers, who previously did not have a right to break time and space to pump on the job, are now covered by the PUMP Act.
"No longer can breastfeeding workers be forced to pump in bathrooms, closets, experiencing painful health consequences, or to give up on breastfeeding entirely because they have no time or space to do so at work," said ABB Co-President Dina Bakst in her remarks. "But passing the law is only the first part of the battle. The law has no power if workers don't know it exists." 
We are proud to continue our efforts to educate workers about their rights, including with new know-your-rights resources breaking down information about both the Pregnant Workers Fairness Act and PUMP Act, so that workers feel empowered to exercise their new rights. The billboard will be visible in Times Square throughout the week—we encourage you to visit and post photos with the hashtag #NewRights4Parents, and help us spread the word about these new laws.