The Pregnant Workers Fairness Act must pass this year or the health and livelihood of millions of women are on the line as they start and support their families. On December 1, we hosted a rally on Capitol Hill in Washington, D.C. alongside Members of Congress, fellow organizational leaders, and ABB's worker Community Advocates from across the country who have experienced pregnancy discrimination firsthand, calling on Leader Schumer to bring the Pregnant Workers Fairness Act to a Senate floor vote.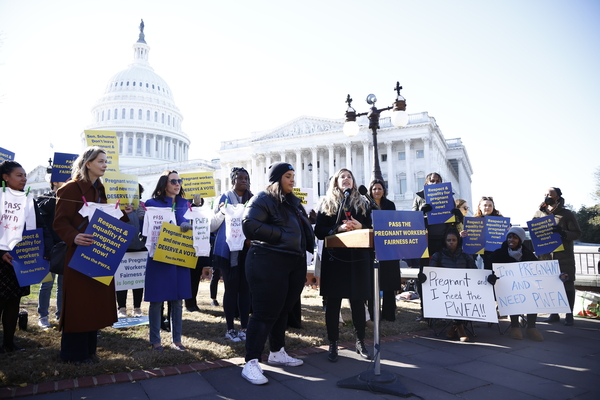 Together, the speakers conveyed the urgent message that pregnant and postpartum workers deserve respect, dignity, and equal treatment, and will not stand by quietly if Congress fails to enact this lifeline legislation.
"As a pregnant woman I came here all the way from Louisiana to say: I'm disappointed and angry this bill wasn't passed years ago," said Denizer Carter, who was pushed off the job while pregnant and working as a grocery store cashier. "As a frontline worker during the COVID-19 pandemic, I appreciate the thanks from politicians for my work, but actions speak louder than words."
Armanda Legros from New York, a longtime advocate for this critical legislation, shared her story of being pushed off the job while pregnant and working for an armored truck company, resulting in devastating economic consequences. "Let me explain to you what it means to be forced out of your job and lose your income while you are pregnant: It means not being able to feed your family," she said.
Natasha Jackson, who was fired from her job at a South Carolina Rent-A-Center after requesting a lifting restriction, also came to the Capitol to speak out and ensure that no woman must go through the same thing: "I'm speaking out for all the women out there who are like me and want to have a safe, healthy pregnancy and to keep their paycheck."
Takirah Woods from New Jersey, who is currently pregnant, similarly shared her story asking her doctor to lift her lifting restriction while pregnant to avoid being pushed onto unpaid leave, and highlighted the disproportionate impact pregnancy discrimination has on working women of color, saying, "The Pregnant Workers Fairness Act is a solution that Black women like me are counting on so we are able to thrive and are not held back by discrimination."
The Pregnant Workers Fairness Act has the votes it needs to pass through the Senate right now, and Leader Schumer must listen to the voices of the brave women who traveled to Capitol Hill from all over the country to demand justice and equity and put a stop to the mistreatment they and countless other women face every single day. As A Better Balance Co-President Dina Bakst said in her remarks, "The PWFA could pass on the Senate floor tomorrow and would put an end to the second-class treatment of pregnant and postpartum workers in this country once and for all."
Representative Jerry Nadler, who first introduced the Pregnant Workers Fairness Act in 2021 and has since championed the bill tirelessly, said, "I have met with countless pregnant workers and listened to their heartrending stories of having to make the impossible decision between staying at work or protecting the health of their pregnancy. That's a choice no one should ever be forced to make."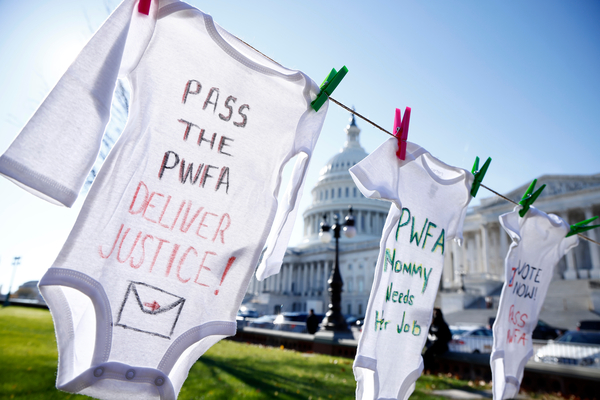 We are appreciative of everybody who and joined us for the rally, and to all of the powerful speakers: Monica Ramirez, Founder and President, Justice for Migrant Women; Representative Jerry Nadler; Senator Bob Casey; Chairwoman Carolyn Maloney; Chairman Bobby Scott; Representative Lauren Underwood; Representative Suzanne Bonamici; Ria Tabacco Mar, Director of the Women's Rights Project, American Civil Liberties Union; Christian Nunes, President, National Organization for Women; Allison Dembeck, Vice President, Education and Labor Advocacy and ED of Women Take the Lead, US Chamber of Commerce; Sheila Katz, CEO, National Council of Jewish Women; Fatima Goss Graves, President and CEO, National Women's Law Center; Lisa Brown, Executive Vice President, SEIU 1199; Stacey Y. Brayboy, Senior Vice President, Public Policy and Governmental Affairs, March of Dimes; Rabbi Eliana Fischel, Washington Hebrew Congregation; Madison Scott, Policy and Research Manager, Healthy Mothers, Healthy Babies Coalition of Georgia; Namatie Mansaray, Senior Director, Workplace Justice, MomsRising; and all of the brave women who have shared their stories to demand change.