Families come in all shapes and sizes, and in order to ensure that all workers are able to care for those closest to them in times of need, it's important that our paid leave laws incorporate broad, inclusive definitions of family. With new data showing that more than 82% of American families don't fit within the rigid "nuclear" mold, it is heartening to see progress at the state level towards ensuring paid leave laws meet the needs of workers today by recognizing all families.
Last month, California introduced Assembly Bill 518, which would make California's paid family leave program accessible to workers who need to take time off work to care for their chosen family members. This bill builds upon last year's Assembly Bill 1041, which gave workers the right to take paid sick leave and unpaid, job-protected family leave to care for a designated family member (beyond specified biological and legal relatives). AB-518 is an important next step and will be especially important for LGBTQ Californians, who often rely on these kinship networks in addition to or in place of their immediate, biological family.
A Better Balance is thrilled by this progress towards ensuring all families in the Golden State have the support they need to thrive, and we were excited to highlight these legislative developments at the National LGBTQ Task Force's Creating Change Conference in San Francisco last month. Alongside our partners at The California Work & Family Coalition and Family Values @ Work, we presented a workshop on the importance of inclusive family definitions and the This Is My Family campaign, a nationwide effort to expand paid leave policies to include all families and the way they love, care and show up for each other.
In addition to uplifting California's recent strides towards making paid leave accessible to all families, the presentation discussed the importance of storytelling-based advocacy campaigns that center the voices and lived expertise of families who have directly experienced the need for these supportive policies. We were proud to be joined by worker advocate Yvette Cervantes, whose experience caring for her child, Dannie, was featured in a recent video as part of the This Is My Family campaign. Yvette discussed the needs of LGBTQ young adults in her community and her experience advocating for policy change on the ground in California to ensure inclusive paid leave policies that recognize all caregiving relationships.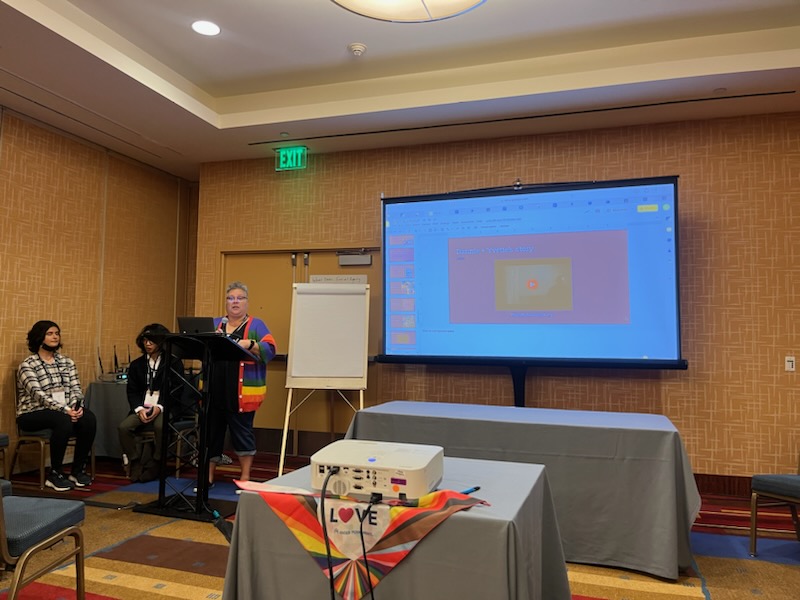 "As a mom, we worry, we care, that's our job," said Yvette, who wasn't able to take time off work to care for her chosen child, Dannie, after he experienced complications following surgery. "But as a parent, now, looking back, the last thing I needed to worry about was being afraid of what was going to happen."
We are honored to highlight the stories of powerful advocates like Yvette via the This Is My Family campaign that illustrate the importance of work-family laws that support the LGBTQ community, young adults, and all different kinds of family. California's steps towards ensuring that all workers can care for those closest to them in times of need are exciting, and we hope to see continued progress towards making state paid leave programs as inclusive and accessible as possible.