Since our founding in 2006, A Better Balance's advocacy and policy efforts around the country have always been informed by our work on the ground. Whether we're representing and advising individuals through our legal clinic, helping to lead legislative campaigns, or meeting with key stakeholders, such firsthand work and learning continually shapes our larger policy work. In addition to ABB's extensive work on the ground in the NYC region and our Southern Office based in Nashville, we now have staff in the Mountain West! ABB's Senior Staff Attorney, Jared Make, has been based in Denver since last year, where he has become engaged in statewide advocacy on ABB's issues. Now that Colorado's 2019 legislative session has ended, we're excited to share several recent policy advances with you!
Earlier this week, Governor Jared Polis signed into law a bill that has restored the ability of cities and counties in Colorado to raise the minimum wage. In a state with significant cost-of-living and affordability disparities based upon geography, this common sense measure will ensure that local governments can supplement the statewide minimum wage floor when it is simply inadequate in their communities. Half of all states in the U.S. have laws that prohibit local governments from exceeding the state or federal minimum wage, and we're thrilled that Colorado is now the first to repeal one of these laws and restore local authority on wages. In partnership with the Local Solutions Support Center, ABB was proud to provide legal research to our state partners, testify in favor of the bill, and meet with elected officials to discuss the proposal. Congratulations to the Colorado People's Alliance (COPA), United for a New Economy (UNE), the National Employment Law Project (NELP) and the entire Colorado Work Here, Thrive Here coalition on this significant victory for economic justice and local democracy.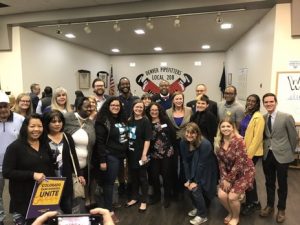 As of yesterday, Colorado is also one step closer to guaranteeing paid family and medical leave to all working Coloradans. Governor Polis signed a bill that requires the state to study paid family and medical leave and establishes a Family and Medical Leave Insurance (FAMLI) Task Force that will provide analysis and recommendations on legislation to be introduced in January 2020. Throughout the session, ABB worked with the FAMLI coalition, led by 9to5 Colorado, on efforts to establish a paid family and medical leave insurance program; in addition to helping to provide a national perspective on paid family and medical leave and sharing our experience in other states, we conducted legal research, offered policy support, met with a range of stakeholders, and testified several times at the Colorado Capitol. As clearly seen in the growing number of states that have comprehensive, inclusive, and publicly-run paid family and medical leave insurance laws, these programs have been successfully implemented to the benefit of workers, businesses, and the state. We look forward to continuing to engage on paid family and medical leave in 2020, so that no Coloradans are forced to risk their financial security in order to care for themselves or a loved one.