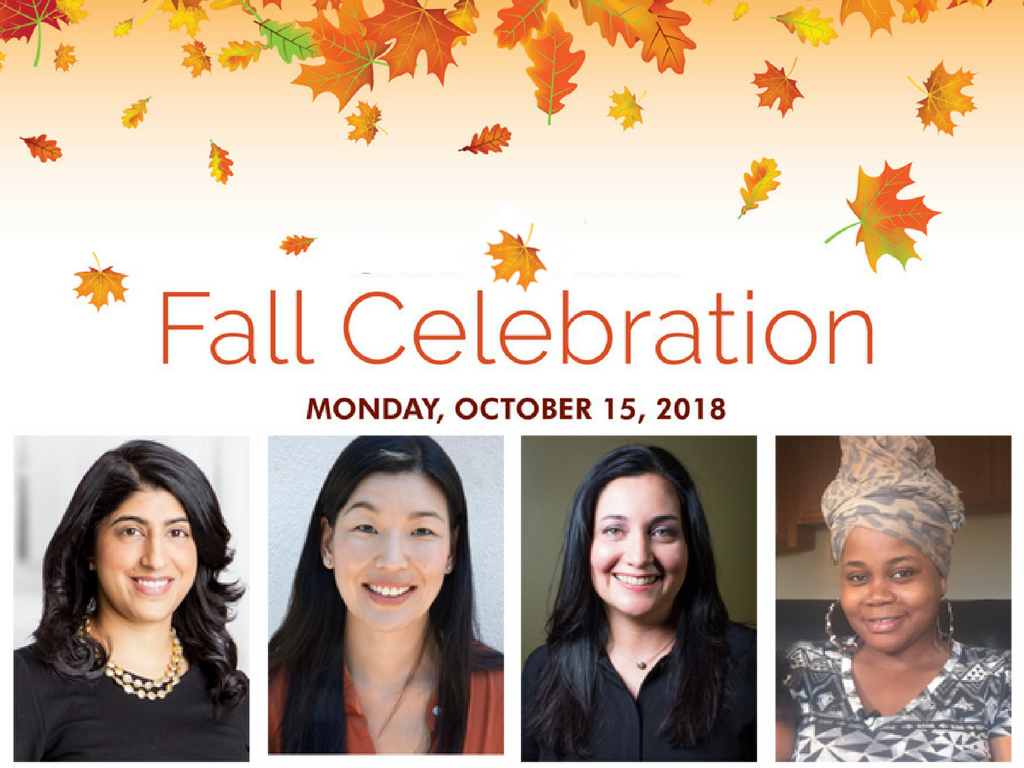 We invite you to join us on Monday, October 15, 2018, from 6:30 to 9:00 pm at the beautiful Manhattan Penthouse to honor movement leaders Kalpana Kotagal, Partner at Cohen Milstein, preeminent civil rights attorney, and co-author of the "Inclusion Rider," referenced by Oscar-winning actress Frances McDormand, Ai-jen Poo, American activist, Executive Director of the National Domestic Workers Alliance, and national leader on workers' rights, and Cindy Robbins, President and Chief People Officer at Salesforce, and a pioneer of the company's equal pay efforts. We will also honor the essential contributions of ABB Community Advocates, Candis Riggins and Otisha Woolbright.
Our Honorary Co-Chairs are writer, lecturer, political activist, and feminist organizer Gloria Steinem, former Chair of the Equal Employment Opportunity Commission Jenny Yang, and attorney, professor, author, and activist Anita Hill.
'Friend' level and above confirmed by

August 9th

will be included as event Host Committee members.
Sponsorship levels:
Platinum: $20,000
Recognition as Platinum Sponsor in event marketing materials and event website
Sponsor acknowledged by emcee during event
Placement of logo on Step and Repeat
Promotional materials in swag bags
Logo placement and Thank You on video screens at event
Inside front cover Journal Ad (2 page full color spread)
20 tickets to Fall Celebration
Gold: $10,000
Recognition as Gold Sponsor in event marketing materials and event website
Sponsor acknowledged by emcee during event
Placement of logo on Step and Repeat
Promotional materials in swag bags
Logo placement and Thank You on video screens at event
Premium placement Journal Ad (1 page full color spread)
10 tickets to Fall Celebration
Silver: $7,500
Recognition as Silver Sponsor in event marketing materials and event website
Sponsor acknowledged by emcee during event
Placement of logo on Step and Repeat
Logo placement and Thank You on video screens at event
Journal Ad (1 page full color spread)
8 tickets to Fall Celebration, or option to donate to ABB clients
Benefactor: $5,000 
Recognition as Benefactor Sponsor in event marketing materials and event website
Sponsor acknowledged by emcee during event
Placement of logo on Step and Repeat
Logo placement and Thank You on video screens at event
Journal Ad (1/2 page full color spread)
6 tickets to Fall Celebration, or option to donate to ABB clients
Champion: $2,500
Recognition as Champion Sponsor in event marketing materials and event website
Sponsor acknowledged by emcee during event
Logo placement and Thank You on video screens at event
Journal Ad (1/2 page)
4 tickets to Fall Celebration, or option to donate to ABB clients
Friend: $1,000
Recognition as Friend Sponsor in event marketing materials and event website
Logo placement and/or Thank You on video screens at event
Journal Ad (1/4 page)
2 tickets to Fall Celebration, or option to donate to ABB clients