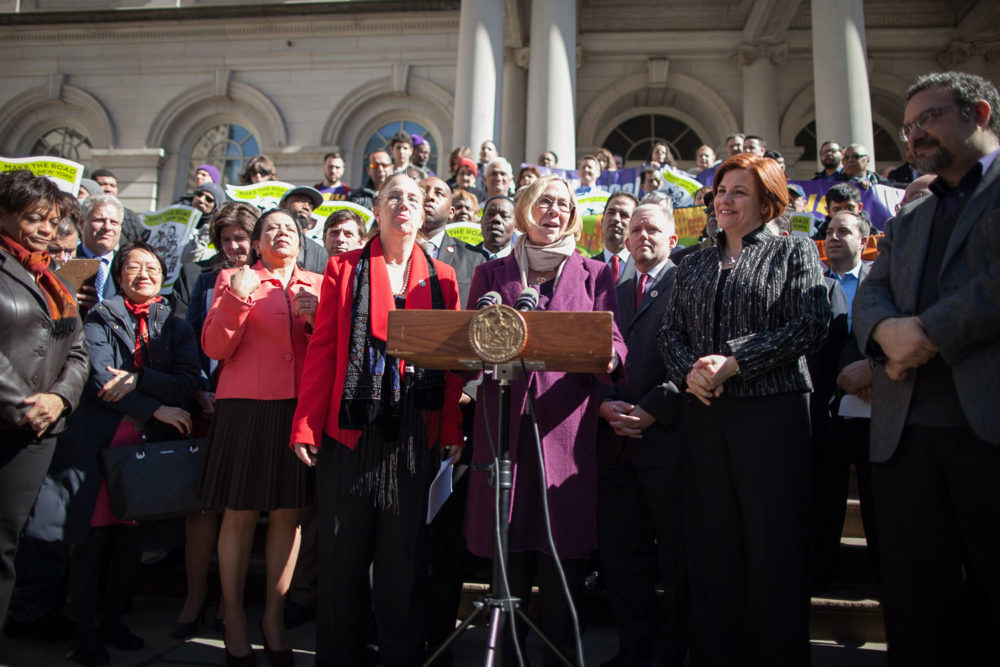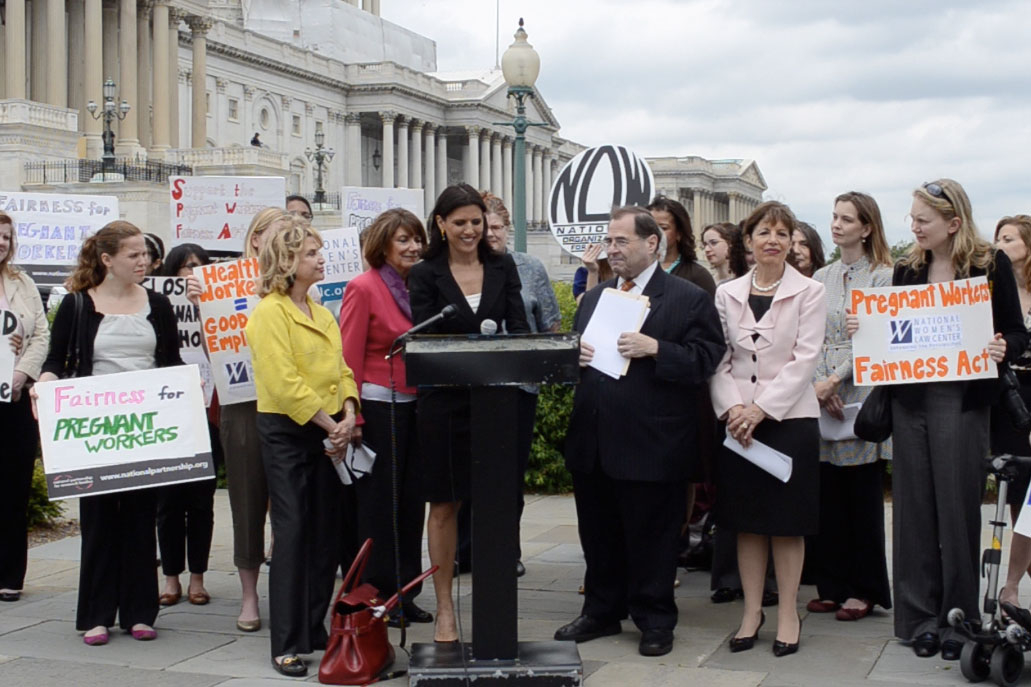 We Advocate
We support legislators and advocates across the nation—from Oregon to Florida, from Wisconsin to Washington, DC. We research, draft, and testify in support of bills that will help working people care for themselves and their families without risking their paychecks.
Our efforts have helped millions of people, guaranteeing paid sick time, paid family and medical leave, and pregnancy accommodations. Because of our work:
27 states and 5 cities have passed explicit protections for pregnant women who need modest accommodations to stay healthy and employed.
More than 19 million workers who previously did not have a single paid sick day are now covered by a paid sick time law.
Over 15 million workers have access to paid family and medical leave allowing them to care for a new child or seriously ill family member or to recover from their own serious health condition.
And, sparked by an ABB op-ed published in the New York Times, Congress introduced the Pregnant Workers Fairness Act, which would make it clear that employers cannot force pregnant workers off the job or deny them reasonable accommodations. We will not rest until this important measure becomes law.
I championed the passage of Temporary Caregiver Insurance. .  . [and] A Better Balance helped me every step of the way by providing in-depth policy assistance, commenting on drafts of legislation, and helping craft comments on our regulations when the law passed. . . Sherry's enthusiasm for my work and encouragement to keep going, helped turn my vision into the law. Congratulations ABB!
-Gayle Goldin, Rhode Island State Senator
Dina, I just wanted to reach out and thank you for the invaluable support and knowledge you provided to me and our legislators regarding the bill to prevent discrimination of pregnant women in New Jersey. Your testimony and input were very valuable to our process.
-Marcela Ospina Maziarz, New Jersey Senate Democratic Office
We Enforce
We work with government agencies and coalition partners around the country to ensure that laws protecting workers are not only passed but also enforced. And when we hear from workers whose rights have been violated, we file legal actions on their behalf in cases that will have maximum impact.
We are not afraid to take on industry giants such as Walmart, Kroger, and XPO Logistics, filing individual complaints and class-action lawsuits when we learn of egregious workplace violations. Our legal actions have resulted in direct relief for our clients and workplace policy changes across corporations.
1.5 million Walmart workers were helped by our legal actions challenging pregnancy discrimination and unfair policies punishing medical absences when the retail giant changed its pregnancy accommodation policy.
Similarly, when government agencies enforce discriminatory policies or seek to block progressive workplace laws, we step in on behalf of working people to protect and defend their rights.
We Empower
Through our free and confidential legal helpline, we provide advice and legal support to the most vulnerable workers. People call us when they need resources to advocate for their workplace rights, a free lawyer to help them get their job back after taking sick time, or when they have been illegally forced off the job after announcing their pregnancy.
Since we introduced our hotline in 2009, we have fielded calls in both English and Spanish from thousands of workers and helped hundreds keep their job.
Through this service, we've met our most courageous clients and passionate advocates, among them:
Takirah who had a high-risk pregnancy and was forced off her job because her employer refused to provide her with a modest accommodation. After we contacted Takirah's employer, they offered her a higher paying lighter duty position for the remainder of her pregnancy.
And Anthony whose employer gave him disciplinary points and withheld his pay after he took three sick days, one to care for his mother and two for his own illness.  We represented Anthony and got relief for him and 159 other workers, totaling more than $60,000.
We Educate
We provide vital workplace rights information to workers and their advocates through our website, social media, publications, searchable databases, in-person trainings, and public speaking engagements. Since our founding, tens of thousands of workers and their advocates have used our resources to successfully fight for workplace rights and justice.
Our know-your-rights database offers reliable, clear, and up-to-date information on federal and state laws addressing everything from job accommodations during pregnancy, caregiver discrimination, paid family and medical leave, and paid sick time. We provide  step-by-step guides for pregnant workers "Talking to Your Boss About Your Bump" and for breastfeeding workers, "Talking to Your Boss about Your Pump." Our Working Women's Pocket Guide covers the employment rights and protections for working woman in New York State. Likewise, our online toolkit, Family Leave Works, helps New Yorkers understand and effectively exercise their rights under the state's groundbreaking paid family leave law that ABB worked tirelessly to pass. And our web feature, Babygate, is a comprehensive nationwide source on pregnancy and parenting workplace rights.
We spark and shape national conversations on work and family through media appearances and strategically placed thought-leader pieces in local and national outlets, including the New York Times, CNN, U.S. News & World Report, and Telemundo, among others. This coverage has inspired new legislative efforts and workplace fairness campaigns across the country. Because the people we help are at the center of everything we do, we work hard to get their stories heard.  Our clients have been prominently featured in investigative reports on the front page of the New York Times, as well as in special segments on CNN, Full Frontal with Samantha Bee, and other national outlets.