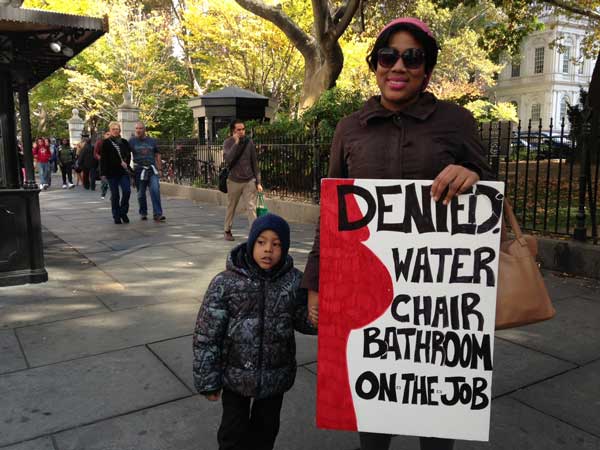 Discrimination Against Pregnant Women and New Mothers Is Not a Work-Life Balance Issue
Last week, Judge Loretta Preska of the U.S. District Court for the Southern District of New York dismissed a class action suit alleging that Bloomberg L.P. discriminated against pregnant women and mothers returning from maternity leave. In her decision, Judge Preska said that the Equal Employment Opportunity Commission (EEOC) failed "to demonstrate that discrimination was Bloomberg's standard operating procedure, even if there were several isolated instances of individual discrimination." As reported in the New York Times, Judge Preska went on to write "The law does not mandate 'work-life balance,'" nor does it "require companies to ignore and stop valuing ultimate dedication, however unhealthy that may be for family life."
While our nation's civil rights laws do not mandate work-life balance, they do protect pregnant women and new mothers from discrimination on the job.  Title VII of the Civil Rights Act, the Pregnancy Discrimination Act, and the Family and Medical Leave Act (FMLA) have all been used successfully by pregnant women and new mothers to challenge unfair treatment at work.  In fact, according to the Center for WorkLife Law, lawsuits filed by pregnant women and new mothers have increased dramatically over the past decade, and employees are prevailing far more frequently in these cases than in other types of employment discrimination cases. Many of these cases involve bias and negative stereotyping about the competence and commitment of pregnant women and new mothers. For example, in Trezza v. Hartford, Inc., the U.S. District Court for the Southern District of New York found an employer violated Title VII by refusing to consider a mother of two for promotion, based on the assumption that she would not be interested because the new position required extensive travel.
Although many cases still fall through the cracks, pregnant women and new mothers who encounter unfair bias in the workplace are increasingly suing, winning, and reaping substantial awards or settlements. Let's not confuse the court's finding in the Bloomberg case—specifically, that there was insufficient evidence to show "a pattern or practice of discrimination" with this simple and important fact.
However, in light of the significant challenges involved in litigating classwide discrimination cases, New York—along with the federal government—must explore new, targeted legal reforms and other strategies, including greater public education, to ensure pregnant women and new mothers do not face devastating career consequences simply for becoming pregnant and taking maternity leave. This is not a "balance" issue, but a critical women's rights issue.